‹ Back to Our Services
Coachella Valley AC Installation
Call Our Coachella Valley Air Conditioner Installation Team for a FREE Quote
In the past, air conditioning systems were designed to last just over a decade. Now, however, AC units are designed to function more efficiently to save on utility expenses and to withstand even the harshest weather conditions for up to twenty years. Of course, this long lifespan is only possible with proper installation.
At Earl's Air Conditioning, you won't ever have to question quality or integrity, because these virtues are our highest priority. We are proud to provide the Coachella Valley, including Palm Springs, Rancho Mirage, Palm Desert, Cathedral City, Indio, Coachella, and more, with custom cooling solutions. Backed by more than 60 years of experience, our Coachella Valley AC installers work quickly to deliver more comfortable settings for you and your family.
When you call, we will take the time to listen to your worries and provide you with a FREE quote based on your needs! Let Earl's Air Conditioning provide you with top-notch workmanship and customer service.
When to Install a New Air Conditioning System at Your Home
Most customers will and should wait for their unit to be terminal before replacing it with a new system. However, there are several advantages to upgrading your system proactively, and these decisions should be made on a case-by-case basis.
Energy Efficient
As technology advances, our cars, computers, and air conditioning units advance as well. The energy efficiency of an air conditioning unit is determined by the SEER rating of the unit. The higher the SEER rating, the better, and newer models boast the biggest improvements in energy efficiency.
Lower Maintenance Cost
As air conditioning units age, they require more and more maintenance. It is costly and time consuming to have a qualified technician come to repeatedly service your unit. If maintenance fees are getting too high, it may be time for a new unit.
Less Environmental Impact
Freon is used as a main component to help your air conditioning unit cool. When Freon leaks, it releases components that deplete the ozone. Freon leaks are bad for the environment and your health, and they should only be handled by a certified technician.
---
What System Is Right for You?
Our Coachella Valley AC installation team does not believe in the one-size-fits-all approach. That is why we take the time to understand your family's needs, the current conditions of your home, and your budget before providing you with our cooling solutions. When you call for a quote, we will take the time to understand your needs. From there, we can determine which AC unit would best fit your home.
Our team of AC installers at Earl's Air Conditioning can provide, install, repair, and service the following types of units:
Central Unit: These cost-efficient air conditioning units are normally located on the side of a building and distribute the cooled air through a series of ducts.
Package Unit: These are similar to the Central units, but the ductwork is normally exposed on the roof of the building.
Window Unit: If you have a small space to cool, a window unit may be right for you. These units are small, affordable, and plug right into an outlet.
Ductless Mini-Split: A ductless AC unit is a good option when ducts are not available for your home. This system is sleek, energy efficient, and offers independent control.
Commercial AC Unit: This type of unit is most effective for large areas typically seen in work places.
---
Thermostat Options Available
Digital Thermostats offer higher temperature accuracy than manual thermostats.
WiFi Thermostats allow you to adjust the temperature from anywhere with an internet connection or data plan.
Smart Thermostats such as Honeywell Pro 9000 and Nest learn your daily schedule and adjust accordingly.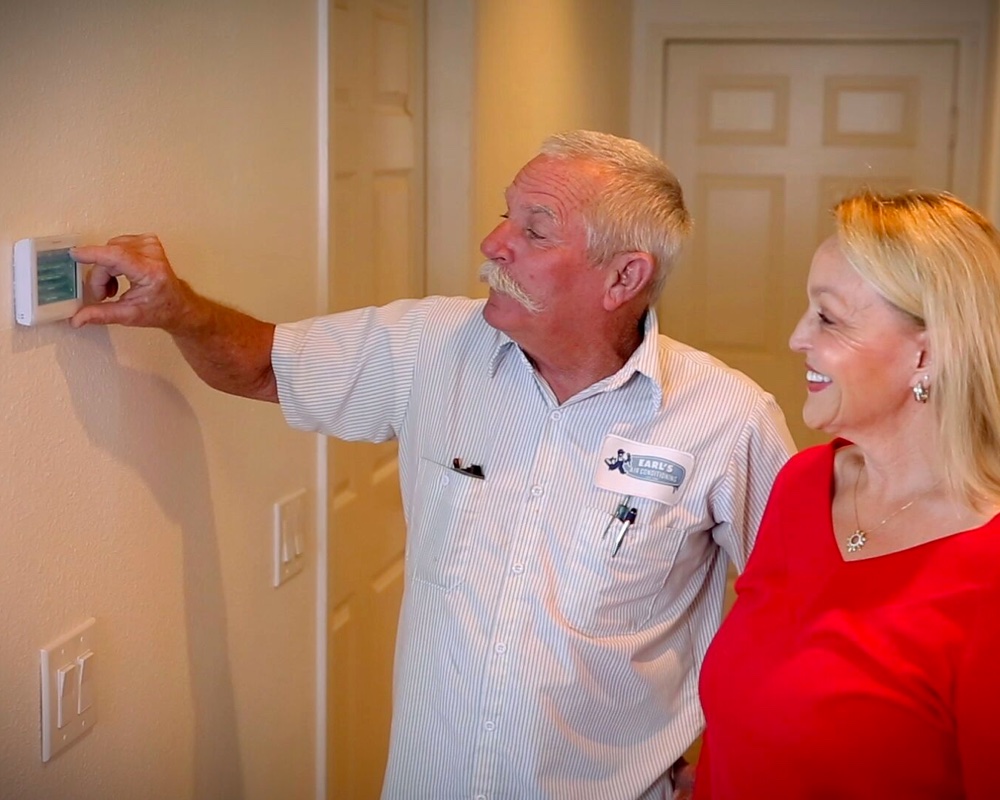 Efficiency is Key—We Help You Save
When it comes to saving on your utility bill, especially during the hottest month for the Coachella Valley, having an efficient air conditioner can make a huge impact! That's why our Coachella Valley air conditioning installation team takes the time to ensure you benefit from the most energy-efficient system possible. A higher-efficiency system will ensure you don't suffer from repetitious AC malfunctions and a constant for repairs.
Have more questions for our Coachella Valley AC installers? Call our team today and let us provide you with a FREE quote. We have been serving the valley for more than 60 years.