‹ Back to Our Services
Indoor Air Quality Services in the Coachella Valley
Call our Coachella Valley AC Maintenance Team for a FREE Quote
We all know pollution and unwanted toxins exist beyond the comfort of our home. As such, most people do not realize that the air inside our homes can be as damaging to our health as the air we breathe when outside. For this reason, every homeowner should take into consideration the indoor air quality of their home to safeguard themselves, as well as their families, from unnecessary dangers.
Our Coachella Valley air quality services team is here to provide you with an array of solutions to protect the air your family breathes on a daily basis. Because most people spend up to 90% of their time indoors, keeping your indoor air pollution levels low is one of our greatest priorities.
Call our Coachella Valley air quality services team at Earl's Air Conditioning! We can answer any questions you may have and offer various solutions to keep your family safe.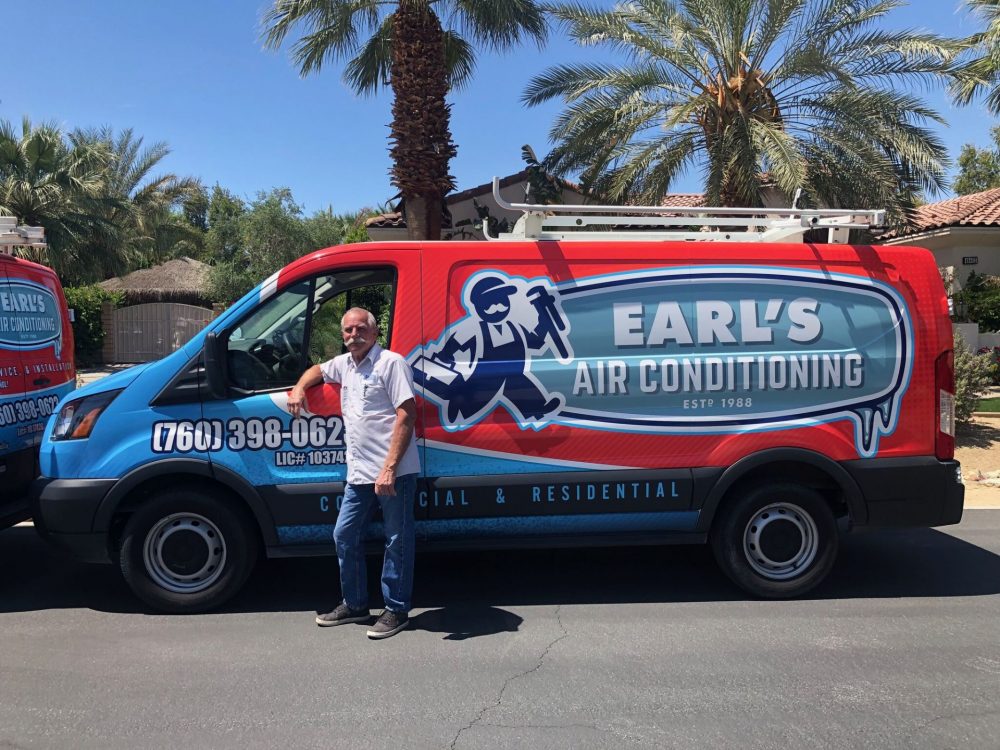 ---
Air Quality Solutions We Offer
Air Filters
Change your filters regularly! At Earl's Air Conditioning, our technicians will always check the status of your air filters during a service call and change them out when needed.
Air Purifiers
Get the particles before they enter your system. These are a cheap, effective choice to prolong the life of your system.
Air Duct Cleaning
Get your air duct system professionally cleaned. Like everything, our AC units need regular maintenance to keep them running in the best possible condition.
Air Duct Sealing
Sealing your ducts help keep particles out of your unit in the first place.
---
Common Causes of Indoor Air Pollution
Chemicals
Toxic ingredients in your soaps, cleaning supplies, insect repellants, and other household chemicals contribute to indoor air pollution.
Molds
Mold can cause allergic reactions to severe respiratory distress. Luckily this isn't a big problem in the Coachella Valley, however damp conditions in a bathroom or laundry room can foster a moldy environment.
Carbon Monoxide
This odorless, colorless gas can actually kill humans if too much is inhaled. A malfunctioning furnace is a culprit in elevated CO levels.
Personal Habits
Smoking indoors, burning incense and lighting paraffin candles.
Lack of Ventilation
Newer homes are airtight, which means that pollutants can't get out.
Old Filters
Filters collect dust and other debris. However, they can only handle so much. Make sure you regularly change your filters!
Dirty Ductwork
Ductwork can build up dirt over time. When remodeling a house, make sure you change out the ductwork.
Call our Coachella Valley Indoor Air Quality Team
At Earl's Air Conditioning, we take pride in our 60 years of experience in the Coachella Valley. For this reason, we see it as our mission to keep our neighbors safe by providing top-tier air quality services. When you choose to work with our team, you can rest easy knowing we will do everything in our power to create a safe and enjoyable space for you and your family. Call us today, and let us provide you with a FREE consultation and quote. We are ready to provide you with top-of-the-line services!
We're Committed To Providing You With The Best Air Quality Possible