‹ Back to Our Services
Coachella Valley AC Repair
Free Quote for AC Repair in the Coachella Valley: 760-327-5722
If you are searching for top-tier air conditioning repair in the Coachella Valley or the surrounding areas, Earl's Air Conditioning is right for you. Our Coachella Valley AC repair team offers a wide range of cooling services to fit the needs of your home, family, or business.
Backed by more than 60 years of service in the Coachella Valley, we have earned a reputation as an esteemed company that places a large emphasis on customer service. From new HVAC system installations to replacements to AC maintenance services, Earl's Air Conditioning has you covered.
Call our Coachella Valley air conditioner repair team and obtain a free quote today!
When Should I Replace My AC Unit?
When your air conditioner stops functioning correctly, it's time to call our Coachella Valley professional air conditioning repair team. In many situations, an AC unit simply needs repair. When you contact our team, we can diagnose the issue and determine the best solution.
If your AC unit is doing any of the following, it may be time for an AC replacement:
Air conditioner does not turn on
AC unit no longer cools your home or business
Air conditioner breaks down repeatedly
AC is less costly to replace than repair
AC has a low SEER rating
AC unit is over 10 years old
Benefits of our Coachella Valley Air Conditioner Replacement
While most customers will wait to replace their HVAC system until the current AC unit is no longer working, there are many advantages to upgrading and replacing older, less efficient air conditioning systems rather than investing in ongoing HVAC repairs. In fact, a new AC system can:
Save you money by lowering your utility bills
Help you avoid repair and servicing fees
Improve your family's level of comfort
If you are frustrated with an inefficient or ineffective air conditioner in the Coachella Valley, contact Earl's Air Conditioning today! We can assess your current unit, your goals, and determine which system is best based on your needs. Our team provides top-notch work in a timely manner to guarantee your family comfort in no time at all.
Common Problems With Your Air Conditioning System
Your air conditioning repair will usually fall into three broad categories – not cooling, not turning on, and limited airflow. Earl's Air Conditioning is here to inspect and determine the AC repairs needed to keep your system up and running efficiently at the most affordable cost possible.
Not Cooling
Refrigerant leaks: After many years, pipes corrode, which can lead to this problem. Refrigerants are toxic and need to be handled by a licensed professional
Clogged condensation drains
Dirty Filters: One of the most common issues, and also one of the easiest to fix, is clogged filters. When filled with debris, air flow is forced into smaller and smaller holes Regularly changed filters will help the unit function properly
Thermostat failure: The most common issue under this category is electrical; however, thermostats can also fail because of programming issues and old age
Sensor problems: The air conditioning unit is full of sensors, and any one of them can lead to the dysfunction of the system
Frozen evaporator coils
---
Not Turning On
Electrical connection issues: It is common for wires to slowly be jarred loose by the fan or for wires to short due to contact with hot copper lines
Thermostat failure: The most common issue under this category is electrical, however, thermostats can also fail because of programming issues and old age
Not receiving power: It is common for the unit to trip the breaker, so make sure to check your electrical panel before calling out a professional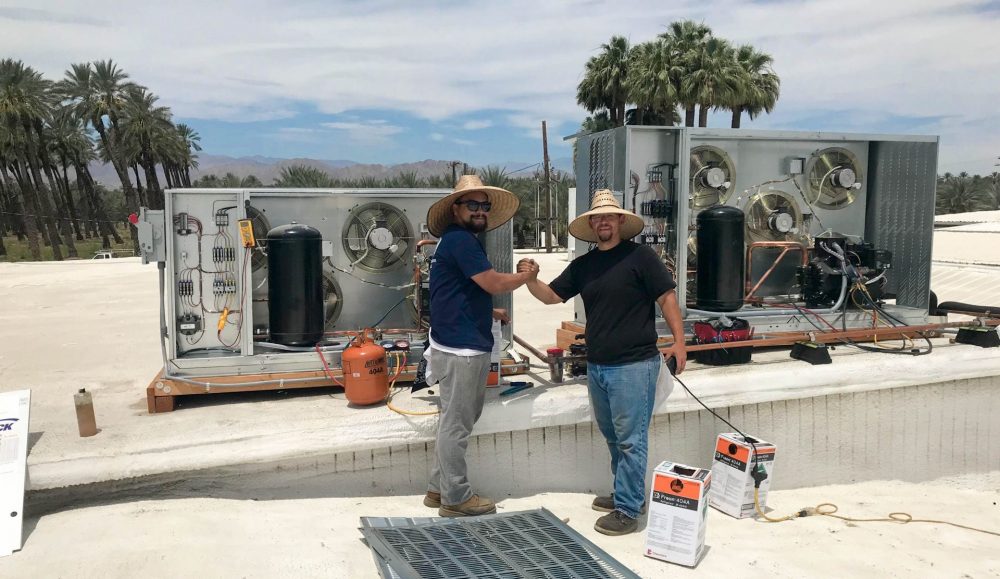 ---
Limited Air Flow
Duct issues. The most probable cause for limited air flow is clogged and possibly disconnected ductwork.
Clogged filters. Another cause is when the filters are full of dust and debris. Once changed, any filter problem will be fixed.
Is AC Maintenance Important and Do I Need It?
Regularly scheduled AC repair and maintenance is crucial to avoid serious or prolonged issues—especially with the extreme weather conditions of the Coachella Valley. Proper air conditioner tune-ups will ensure your AC unit is always working at its full potential and can drastically improve energy efficiency and utility bills.
Become an Earl's Insiders Member: Save Money and Enjoy Top-Priority
As an Earl's Preferred Member, scheduling AC maintenance and tune-ups in the Coachella Valley is easier than ever. Earl's Preferred Members will be able to enjoy the following perks:
Two (2) complimentary maintenance services a year
Priority scheduling for rapid turnaround on all services
Discounts on all repair services all year long
Trust the team backed by more than six decades of experience. Our Coachella Valley AC repair team is ready to make your home and business comfier and more affordable than ever before. Call today!